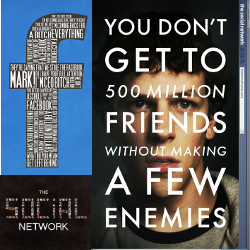 The story is absolutely about Mark Zuckerberg, the founder of Facebook. The beginning of the story is when Mark and his friends had an idea to create Facebook at their university, Harvard where he take his education. Once he got victory creating a website containing Harvard's student faces, Mark creates a new game. In this game, there are two girls need to be voted. The winner is the one who gets the highest vote. 

New craziness has made his website, Facemash, got 22,000 hits within 2 hours. It also caused the server of Harvard crashed and Mark got detention for disciplinary act.

The story about Mark spread out around Harvard and many girls hate him because of using their photos without any permission. However, there was a twin as his senior at Harvard who liked his ide and his work.