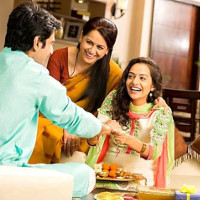 For a girl, one of the most beautiful relationships is the one that she has with her brother or her bhaiya. And, if the brother is married, the bond is further extended to sister-in-law or bhabhi!
A bond that is bestowed upon by birth and carried for life, and keeps the love alive between a brother and a sister. The small fights, the leg pulling, the snatching of chocolates in childhood are replaced by utmost caring and sharing in youth. With brother's marriage, as the new member comes into the picture, sister is even more delighted to have a friend and a sister, in one single person.
Though the fondness in such relationships is natural, yet, there are a few things which bring supreme joy and strengthen the connection for life. A few deliberate love-filled actions can also work to resolve any conflicts if there are any.
If you are a sister, it is also upon you to make efforts and try to strengthen your relationship with your bhaiya and bhabhi.
Bless Them with All Your Heart
While you might already be doing that, make sure you give words to your blessings and let them have a joyous experience. A good idea would be to buy a beautiful bhaiya-bhabhi card and write down your emotions and blessings and send it across. You can hand it over personally if you stay with them. This little gesture is definitely going to touch their hearts.
Plan Family Activities Together
The best way to spend time together is to plan some activities where all three of you, or the entire family can participate, rejoice and make some memories together. A tambola party at home, a chess competition, a carom get-together or a picnic when the weather is pleasant, are some of the perfect family plans. Make sure you do not forget to invite your bhabhi's maternal family. She is going to love you for this. 
Help Them In The Chores
You may be the younger, pampered sister who has all the love from your bhaiya and bhabhi, yet, you must take some responsibility and make them feel cared for, too. Helping them in daily chores like cleaning, housekeeping, cooking or filing papers will help them take a little time off and spend it with each other. This will also go a long way to make your relationship sturdy with them. 
Buy Them Small Gifts On Special Days
We often overlook the fact that exchanging gifts in relationships always elevates the love and bonding. Same holds for your relationship with your brother and his wife. Be it an occasion or not, if you can spare some money and time to choose little presents for them, they are going to remember the gesture for life. Thus, the affection increases and brings all of you much closer. 
Pamper Them For Rakshabandhan
Last but not the least, the festival of Rakshabandhan that rejoices the sibling love, is one occasion that you must not miss and make the most of it by pampering your bhaiya-bhabhi to core. Take them out for dinner. Spend quality time with them and do not forget to buy beautiful bhaiya bhabhi rakhi sets to commemorate the auspiciousness of the day. When you tie a Rakhi knot to your brother's wrist, your bhabhi must have one too, as a souvenir of love between you two. 
Bhaiya Bhabhi rakhi sets are easily available online and are delivered same day along with the choice of gifts, sweets and other accompaniments as you may order. You must make good use of this opportunity. 
With these thoughtful expressions on your sleeve, you are never going to feel distant from two most loved people of your life, your bhaiya and bhabhi!