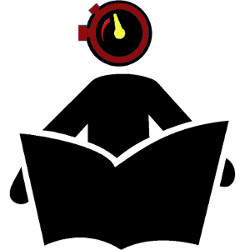 Many textbooks for various subjects are written in English. A higher reading rate, with no loss of comprehension, should help learners in understanding the material and save their time. However, trying to read faster might make learners lost comprehension of what they read. There are some ways, though, to develop our reading ability. The ways are easy-to-apply activities.

Practise on something Easy and Interesting

Read things you like to read. Go to the catalogue subject in the library and choose ones that interest you most. Biography, sport, science, cinemas … there's no bound in the area. Pick up books or articles of about your level of ability or just below.
Read through three or four pages at random to have a quick check on how easy a book is.

Set aside time each day

Find 15 – 30 minutes each day to have a reading activity. It may be a free period or a regular wait, say in the queue for a bus or meal – even while eating breakfast. It is a good idea to make sure you always have a general interest book (in English) in your bag.

Don't let dictionaries slow you down!

If you've had the material you'd like to read, don't use a dictionary. If you really must know the meanings of some words, jot them down on a piece of paper to look up later. Note that the meaning of many words will be clear from the sentences around them – what we call the 'context'.

Pay attention to paragraph structure

Always pay special attention to the first and last sentence of a paragraph; it is most likely to give you the main idea. Most paragraphs have a 'topic sentence' which expresses the central idea.

Remember that the opening and closing paragraphs of a passage or chapter are particularly important because the first suggests the general direction and content while the latter often summarizes the essence of what's been said.

Check your progress through pacing

Do this simply by looking at your watch every 5 or 10 minutes and noting down the page number you've reached. Check the average number of words per page for the particular book you are reading. If this is difficult for you to do yourself, you can ask a friend to time you over a set period. Pace yourself every three or four days, always with the same kind of easy, general interest book.

Check comprehension

Stop after every chapter (if it's a novel) or every section or group of ten or twelve pages (if it's a textbook) and ask yourself a few questions about what you've been reading. If you find that you've lost the thread of the story, or you can't remember clearly the details of what was said, re-read the section or chapter.