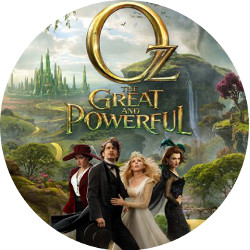 When Oscar Diggs (James Franco), a circus witch, leaves Kansas to Land of Oz, he thought that he has been succeeded to reach his success and fame as well as luckiness before he meet three witches named Theodora (Mila Kunis), Glinda (Michelle Williams) and also Evanora (Rachel Weisz). However these three are sure that Oscar is not a great witch.

Getting involved to the problem faced by Land of Oz and the residents, Oscar has to know which one is friend and which one is enemy. Using his magical science through illusion, ingenuity as well as magic, Oscar changes his self, not only being Wizard of Oz who is big and strong but also being a much better man.
Follow Oscar adventure to be a great witch in Land of Oz and face the three witches. This movie is very interesting to see if you love magical illusion effect and tense scenes.