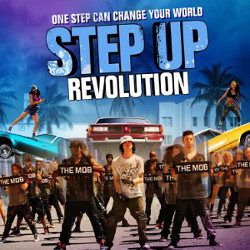 It is one of the newest released movies that you have to watch on this latest July titled "Step Up Revolution". This movie takes Miami as the setting place. It tells about Emily, who is a daughter of a wealthy businessman.

Emily come to Miami and is eager to be such a professional dancer. However, she suddenly fall in love with Sean, a man who leads a famous dancing group. The dancing group which is leaded by Sean is named MOB.
MOB group struggles to win a contest to take a chance getting a primary sponsor for their group. Unfortunately, the MOB and surrounding are threatened by Emily's father to immediately develop the area. It means that thousands residents staying in that area should be evicted. 

Then, Emily needs to join the MOB group along with Sean to protest. However, they should take a risk that they will lose their dream, getting a primary sponsor for their group, to struggle for the bigger goals. So, are they success to reach what their dream? How is about their sponsor? Just watch the movie on July 27th to find the answer.