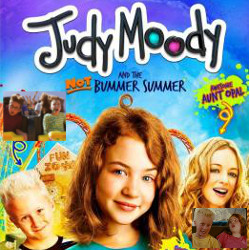 Directed by John Schultz, the movie 'Judy Moody And The Not Bummer Summer' stars Heather Graham as Aunt Opal, Jordana Beatty as Judy Moody, Parris Mosteller as Stink. The producers of the film are Gary Magness, Bobbi Sue Luther, and Andrew Sugerman.

The music of the film is very catchy and it owes its pleasing nature to Richard Gibbs and the teen sensation all over the world, Miley Cyrus. Editor John Pace does a decent enough job throughout the film which was shot in the studio Smokewood Entertainment and Relativity Media. Relativity Pictures are the distributors of the film, ensuring to create a world-wide appeal of Judy Moody. Judy Moody And The Not Bummer Summer is a comedy, kids and adaptation movie.
Judy Moody and the Not Bummer Summer is based on a bestselling series of children's books by librarian-turned-author Megan McDonald. The film stars Jordana Beatty as the title character, Judy who prepares for three months of unbridled fun when her school term ends, but her plans are derailed when two of her best friends, Rocky (Garrett Ryan) and Amy (Taylar Hender), announce that they are leaving for the summer.

Judy's summer prospects further diminish when her parents decamp to California to tend to an ailing grandfather, leaving behind her eccentric Aunt Opal (Heather Graham, convincingly crazy), a vagabond free spirit with an interest in "guerrilla art," to take care of Judy in their absence.Newcomer Australian Jordana Beatty does a fabulous job playing the role of Judy Moody but the film has a whole lacks in making a long-term impact and leaves a sour taste in the mouth of the audience.

In conclusion, one cannot feel but say that Director John Schultz could have made a much better movie had he spent some time with this movie, instead of what it looks like was a quick wrap up to finish it off as soon as possible and go home.