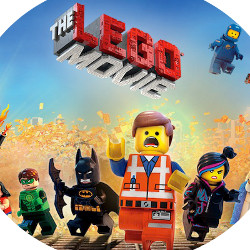 Sometimes, we do not have to be great and special to change the world or just to be beneficial for people around. In The Lego Movie, an incredible way of life comes to Emmet Brickowoski (Chris Pratt), an ordinary man.

In the Lego world, Emmet is such a worker who works in construction building company. His life is just like everybody else, no special with that. In fact, in his daily life, Emmet often follows some instructions he note in order to make his life perfect.

He is cheerful and friendly to anyone. With his life, he feels so comfort and click, even though he has none to love with or someone whom loves him.
One day, after the work time is over, Emmet wants to join his friends to hang out as suddenly he feels something weird. Emmet follows his intuition and separates from his friends. Suddenly he sees a beautiful girl on the construction whereas nobody should be not there.

Wyldstyle (Elizabeth Banks) is the name. Emmet tries to catch pun Wyldstyle, sadly he is failed. In fact, Emmet gets fallen in a hole that brings him in the underground where Emmet sees a red lightened object. Unnoticed, this object can change Emmet's destiny. One day, an incident is happening, the magical object attaches to Emmet's body. Somehow, Emmet's life changes since this incident.

Based on an old story, there will be a young man who can beat an evil, President Business (Will Ferrell) from his actions that want have Lego world discipline with the way that society do not accept. As a forecast, Emmet is the young man.

Is the forecast true? Does Emmet succeed to beat the President Business and bring freedom and happiness back to Lego people?

With unusual story, The Lego Movie created by Phil Lord and Christopher Miller will come sooner at cinemas. You should not miss this movie especially Lego game lovers.

Phil and Christopher who are also the scriptwriter give fresh story which is very suitable for all stages especially kids. You will find the real imagination as the quote of the movie, to be great, you just need to believe!