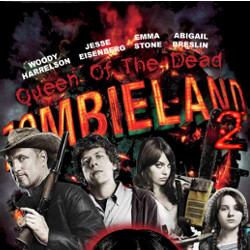 There is good news for zombie movie lovers. The movie Zombieland which has been successful in 2009 will continue the story with the sequel, Zombieland 2. The latest report states that the scriptwriter of the movie GodZillaa (2014), Dave Callaham has been worked in to make the script of the sequel. Meanwhile, the director of the first movie, Ruben Fleischer is predicted to back to his chair and make the script written by Callaham come true.

Zombieland (2009) was fulfilled by h four main characters played by Jesse Eisenberg, Woody Harrelson, Emma Stone and Abigail Breslin. They have a journey to find a shelter during the zombie surrounding. This movie succeeded to get the profit up to US 75 million dollars in the domestic side.
The success of the first movie made Sony triggered to develop the sequel by getting involved the last writer, Rhett Reese and Paul Wernick. Sadly, the project did not run will. On the other side, Amazon has ever asked the example of the episode based on the Reese and Wernick's movie. But the project was disappointing and Amazon decided to pass it.

Reported by Aceshowbiz, the other unclear thing is that whether Eisenberg and the others will be back for Zombieland 2. It is because each star has been far away from the horror comedy movie star image. In fact, some of those are successful with their recent career.

It is known that Eisenberg has made a breakthrough to play as Mark Zuckerberg in the social Network (2010). And then Emma Stones has starred a blockbuster movie The Amazing Spider-Man (2012) and the sequel. And then Breslin is one of the SAG Awards nominees for movie August: Osage County (2013). Furthermore, Harrelson recently is nominated to reach Emmy Award for his actin in the serial movie True Detective.

Then, what will it be, the Zombieland 2 and who will involve into it? Just wait and see.