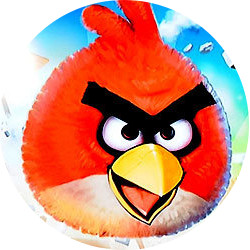 The voice actors of Angry Birds movie have been revealed. The actor in the movie We're The Millers (2013), Jason Sudeikis will be the voice actor for the main character, Red in this new animation movie. The character of Red has a problem with the emotion and tends to be temperamental. On the other hand, Josh Gad will be the voice actor of Speedy chuck and Danny McBride will be the voice actor of the Volatile Bomb.

Reported by Aceshowbiz, Bill Hader and Maya Rudolph will be dealing with the movies as the voice actor and actress to. Hader will be the voice of one character of the evil pig, and Rudolph will be the voice of Matilda. And the star of the movie series, Game of Thrones, Peter Dinklage will be the voice actor of the Mighty Eagle.

Some other actresses and actors who get involved into this Angry birds movie are Kate McKinnon, Romeo Santos, Tony Hale, Cristela Alonzo, Jillian Bell, Ike Barinholtz, Danielle Brooks, Hannibal Buress, Keegan-Michael Key, Ian Andrew Hecox, and Anthony Padilla.
The producer, John Cohen said about the players "I am so proud of them". It is not only because they have been having Jason, Josh, Danny, Bill, Maya and Peter who bring the character to be live, but also they are surrounded by talented stars in comedy world.  They are such the funniest people ever. And I am so glad to have them in this movie.

From the Sony party itself, there is strong reason why they are brave to raise the Angry Birds for movie. " Thanks to 2.5 billion gamers across the globe, Angry Birds is to be one brand that is able to push the involvement of the fans in bulk," Dwight Caines, the president of Theatre marketing for Sony Pictures said.

Caines more said," that is why we want to bring this movie to the fans first. Our movie makers are processing a funny movie, and we know that the fans cannot wait any longer to see how they will bring the story of Angry Birds in a movie".

The movie which is adapted from a game video produced by Rovio will be directed by Fergal Reilly and Clay Kaytis. Meanwhile the writer, The Simpsons, John Vitti will be the writer of the movie script. The plan is that the Angry Birds movie will be released on July 1st, 2016.