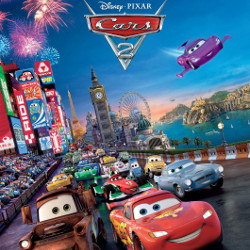 Among many genres of movies and plethora of effects used in movies, animation movies have their own fans. Since the first time animation movie introduced, the quality of the pictures as well as the excellence of the movie itself had been improved gradually. Today, you will even be able to see animation movie which images are truly real, as if they aren't animation at all.

One of popular animation movie producers, Pixar, once again proved its perfect job by taking Cars 2 on top in American box office on the first week. This movie successfully gained US$ 68 million at the first night which leapfrogs the previous prediction of US$ 55 million. This comedy adventure movie is a phenomenon.
The success of particular movie depends on many factors and figures, and director is another key point in a movie. The first series of Cars movie was directed by John Lasseter and he proved his great job once again by directing the sequel, Cars 2. Owen Wilson contributed his voice as Lightning McQueen in the movie.

Right below Cars 2, it is Bad Teacher that holds the second place in US box office. With two A-list celebrities staring the movie – Justin Timberlake and Cameron Diaz – the income it gained at the first night was coming with the number US$ 31 million.

One of the factors that promotes this movie to grab so much attention can be the fact that Justin Timberlake and Cameron Diaz were once involved in a romantic relationship, although they remain friend today. Film viewers are intrigued to watch what they can give.

After sitting on top of box office for a while, Green Lantern is now in the third position and this movie must feel content about it. This superhero-themed movie is an adaptation movie based on the DC comics characters and the producing of this movie has gained significant responses from fans around the globe. At the second round, this movie obtained US$ 18,34.

Moreover, the fourth position is held by Super 8 with its income US$ 12,2. The movie which is directed by J.J. Abraham is a comedy film stared by Jim Carey. This is another successful science fiction movie that luckily attracts so much attention. On the fifth position, it is Mr. Popper's Penguins that should satiate to earn US$ 10,3 million.

So, what movie will replace those in five top position in box office for the coming weeks? We shall see.