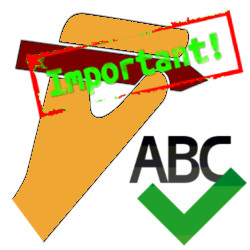 In today's fast paced, tech-driven world, some of the more traditional forms of communication and socializing have gone out the window. Sticklers from older generations bemoan the lack of manners from young folks and balk at the fact that very few of today's youth know how to politely answer a phone, use a typewriter, or write in cursive. Another lost art? Proper grammar and spelling.

We have become so reliant on smart phones and tech devices to correct our poor punctuation and sentence structure that without these tools, we would be lost. And certainly, there are numerous programs to prevent major grammatical errors in everything from casual emails to important documents, but sometimes these programs lack of the sophisticated detectors to prevent 100% of mistakes.
Read on for three reasons why brushing up on grammar skills is important and learn tips for how you can improve your writing immediately

Set Yourself Apart
So many people suffer from grammatical illiteracy these days that having a solid grasp on the fundamentals (think: "your" vs. "you're", and "to", "too", and "two") helps you stand out in a crowd. It's a sad day when you come to expect the worst from your peers, but most Americans seem incapable of correctly spelling many seemingly simple words like "receive", "neutral", and "pageant". If you can master good spelling without relying on spell check or grammar tools such as Grammarly, you can consider yourself ahead of the curve.

Professional Success
Some companies will literally toss out a resume with grammar mistakes, hindering that individual's shot at professional success. Don't let small mistakes alter the course of your career. Ask a friend or family member to proofread important documents, and always do a final check with some types of editing software like Grammarly.

Writing is the Window to your Soul
Well, ok, perhaps this is a bit of an exaggeration, but as phone calls and face-to-face meetings become outdated, the prevalence of writing soars. In all avenues of life, we text, tweet, and email one another as primary forms of communication. Chatting is out, typing is in! When so often we rely on our words to make the first impression, it's important that that impression be a good one. Don't let sloppy writing tarnish your reputation. Proper grammar and spelling reflects highly on the writer and garners respect from others.

The importance of developing good writing skills is critical in today's world. Don't let lousy basics bring you down. Brush up on grammar, spelling, and vocab with an app on your smart phone, state-of-the-art grammar software, or a few hours with a tutor. You'll see what a difference it makes.