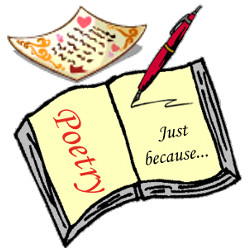 Many people feel that they are not able to write any poem. Maybe you include one of them. In fact, some who are professionally writing short story or novels give up when they are asked to write a poem. Writing a poem actually is easy to do. But to get the beautiful one, you might need some effort.  

However, never feel that you cannot do it. There are many ways to improve your capability. You can apply these some tricks in order to get more beautiful poem.

A poem doesn't always have rhymes. Having rhymes is not to be the only parameter to consider a poem beautiful or not. There are many other factors need to consider to value the quality.
Should it be choosing a word or diction? You might consider choosing a word or diction when writing a poem. But it is not absolute requirement since you are still allowed use your daily word, but you need to arrange it beautifully.

Choose the theme

It is the most important thing to do when you are about to create a poem. Just remember, do not take the same theme several times. Make it more various. It is because human has limited imagination and creation. It will burden you to get the best words in order to make high quality of poems.

Try to change

Choosing various themes could stimulate your creativity and enhance your spirit to write more poems. An interesting them you can raise some themes for poem are such as humanity, politics, economy and even horror or even mystical matter.

Word repetition

Try not to repeat some words over and over. Word repetition will make the poem boring to read and absolutely will decrease the quality of the poem entirely. If you really need to repeat the same word for a certain reason, never ever give up. You might find the synonym of the word without having to decreasing the meaning you want. In fact, synonym makes the poem more beautiful and poetic. 

Too Poetic

Too many using language styles on each verse such as personification, metaphor, hyperbole and so forth will become a boomerang. It might enrich the meaning of the poem but too many will make it boring. Just do not too much about this. 

Using Unique Diction

A unique diction is such a rarely-used word either in daily conversation or news text and other literature. Mostly, unique diction sounds strange and even most people not know the meaning exactly. You might enrich your language by using such a word. But do not force yourself to put too many in your poem. You might make your reader confused instead of enjoying it.

Too Deep in the Meaning

A poem which has too deep in the meaning by using too many modalities will make readers getting confused about your point. It might not be effective at all since you cannot bring the readers to the point you directed. Just make it simple. Choose the word and sentence in simple way to make it easy to grasp.

Choosing the Title

People will read the title firstly. It is the chance for you to attract them to read your poem. Writing the title of a poem should be thought carefully. You need to choose the title which is in line with the theme and the meaning of the poem entirely. Choosing diction is important to do. In fact, some people are able to fall in love with your poem only by the title.

Too long or too short

Too short poem might not meet any requirement to publish. Moreover, it will not be enough to deliver your message in it. Too long is also not good. Avoid any redundancy. Just use as many as needed to deliver the point and your poem will be ready to publish.