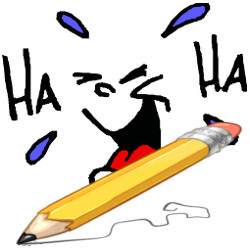 If only you such a funny person, you might be able to write a full of humour story easily. But if you don't it must be so hard to do. Instead of creating the funny one, you get the gloomy one. It is because most stories in your heart are about something not fun. So, writing is the way out. There are so many gloomy stories made such as broken heart, death and many other sad stories. It is not a mistake. But, it will make boring for the reader. 

A joke is the most powerful way to create an interesting story, no matter what the genre and the theme. Maybe you are wondering, how to insert any joke if the main character is not humourist and the theme of the story is serious matter? Here are some tricks you can apply to make your readers smile.
Make the character of the Antagonist or Supporting Roles Funny

Just like sadness or madness, the best way to bring the readers to the circumstance you want is by showing a certain scene. If you want your reader smile, give them funny scene. If the protagonist cannot give it, you can insert joke matters through the antagonist or the supporting roles. You can learn more about this from Batman movie in which the character Joker colour the dark of the movie to be ridiculous.

Supporting roles that appear at once is much easier to be the ridiculous one. You can make the character as crazy as you can think. Pay attention to a crazy man incidentally in to the story as the supporting role. 

Funny Setting or background Story

Humour matter can be added into story setting. The easiest is by getting the characters keep tracking of surrounding. The circumstance is made to mock the main character. 

Being a writer should have no heart. The most primitive technique to create a joke is by laugh on others' bad luck.

If it is not funny enough, you can describe the reaction of the main character. Make sure his/her reaction funny enough to make readers laugh. Even a small tiny action could be so funny for the readers. Just be creative to imagine.