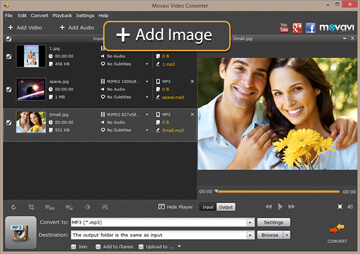 Over the years JPG has become one of the most popular formats for storing images – and for good reason. Its reputation for being one of the best image compression formats is well deserved and it is able to dramatically reduce file sizes without losing too much image quality. Whether you're looking to save storage space or optimizing an image for a website – JPG should definitely be high up on your list.
For the uninitiated, converting images to JPG may appear to be a daunting process – but it doesn't have to be. With software such as the Movavi Video Converter for Windows, converting any image format to JPG is actually really simple: 
Click the 'Add Image' button and select the image (or images) that you want to convert.
Open the 'Convert to' list and choose JPEG as the format.
Click on 'Destination' and choose the folder that you'd like to save the image in.
Click Convert.
The conversion should just take a couple of seconds and when it is done a new window will open of the folder that you selected as the destination. From there you can browse the image (or images) that you converted and check that everything turned out fine.
If for whatever reason you'd like to convert your images to any other format, the process is the same – you just need to select the format that you desire from the 'Convert to' list. In other words, the choice is entirely yours whether you want to save your files as JPG, BMP, TIF, GIF, or any other format under the sun – though just be aware that not all formats have the excellent compression that JPG brings to the table.
All said and done, the reason why using the Movavi Video Converter for Windows as a JPEG converter is recommended is due to the fact that it is incredibly easy to use. Rather than trying to use complicated software where you end up getting stuck in technical menus that don't seem to make any sense, with this software you'll find that everything is intuitive and easy to grasp.
Also there are a ton of other features that you can choose to take advantage of – all of which are just as accessible as converting images and will be right there at your fingertips.