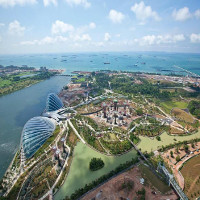 It is rightly said Singapore is a visitor's paradise…. 
If you ask couples where they would like to go for a honeymoon and 9 out of 10 would say that Singapore is their first choice. This place has a different kind of charm altogether. Although, it is considered to be expensive by many, but when you are spending on something good, you should never regret about your decision. Visiting Singapore is like a dream come true for many. And, when you have finally reached there, you must do some of the most interesting things that make Singapore so much special. 
So, here is a list of few amazing things that you should try while being in this city of dragons. Go through these top 6 places and get inspired:
Singapore Botanic Gardens
When you are in Singapore, it is a must to visit the Botanic Gardens. You don't have to pay any entry fee and the garden is open throughout the day. The lush green plants and a huge variety of flowers will just make your day.
Chinatown Heritage Centre
It is almost like a city in another city. If you love cultures and traditions of different countries, then this place is one that you should never miss to visit via SaveMyPocket. The streets and shops have been recreated to give a feeling of the 19th century and the ambience is extremely wonderful.
Singapore Flyer
Resembling The London Eye, the Singapore Flyer will give you the chills when you are inside one of the pods and the rotation starts. On reaching the top, you will feel like being on top of the world and the ecstatic joy is beyond your imagination. Save enough money for this ride especially if you are going with your family.
Supertree Grove
One of the most popular tourist spots in Singapore, Supertree Grove has towering trees and if you manage to visit this place at night, the lighting is simply marvelous. You will love to spend hours after hours there holding the hands of your beloved. There is also a lighting show at night that you can enjoy.
Universal Studios Singapore
Want to live the famous Hollywood movies that you have seen till date? Universal Studios is the ideal place to be. You will be able to see your favorites movies almost come to life. There are various themed zones and numerous rides and various other attractions that can make both you and your kids go crazy in excitement. It is a great place to be if you are movie buff. Your kids will have a great time while enjoying the rides and the outing will be real fun for everybody.
Gardens by the Bay
This is basically what beauty actually means in real life. A must see attraction right at the heart of the city of Singapore; the place is home to beautiful gardens and specially built domes. It can be a fantastic spot for romantic people as well. If you have a romantic dream you can propose your love under the flower dome. Interestingly, you will never keep score of the time when you are in Gardens by the Bay.
Life is full of surprises and so is Singapore with its basket of beautiful offerings just for romantic peoples like you. So, do not miss an opportunity to do all the stuffs mentioned above by availing the coupons from CouponDekho. Because, time is short and you need to utilize it better when you are in such a beautiful city.
If you love to dream, then visit Singapore at the earliest…