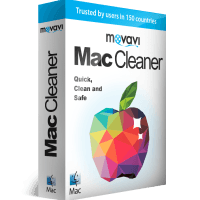 As time goes by your Mac is bound to accumulate more and more files on its hard drive – many of which are never actually used. Some of these files may be 'junk' such as old cache files, trash bins, and so on – and others may be apps that are no longer being used, or have been uninstalled but left behind some files.
Although having these files sitting around on your hard drive and doing absolutely nothing may seem harmless to begin with – the fact of the matter is that they're going to affect your Mac's performance and waste its hard drive space. As such you should definitely take steps to clean them – and the most convenient way to do so is with the Movavi Mac Cleaner.
Instead of attempting to hunt down unwanted apps and files manually (which will take a very, very long time), the Movavi Mac Cleaner will allow you to remove all the junk on your hard drive quickly and effectively. When you launch it, the software will immediately automatically scan your Mac to locate all the junk files that are hiding on your hard drive – and let you remove them all with a single click. Alternatively if you want you could choose to only remove certain types of unwanted files too.