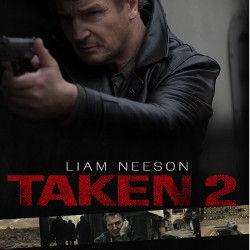 Continuing the first movie story, Taken 2 provides a kidnaping drama that is threatening the safety of Bryan Mills' safety (Liam Nesson). After living and coming back to Los Angeles, Bryan and his daughter, Kim (Maggie Grace) try to live normally as the abduction tragedy which was performed by kidnapping syndicate group. 

The live normal off Mills' family is started by travelling to Istanbul. Along with his wife, Lenore (Famke Janssen), Mills and Kim enjoy the culture as well as the beauty of the city.

However, the Mills' family happiness is no longer.  There is a new kidnapping terror prepared by Murad (Rade Serbedzija) that is the father of one of the all kidnappers. He promised that will revenge on his son's death murdered by Mills. Along with his remain groups, Murad start to find out Mills and plan to bring a nightmare to Mills' family.