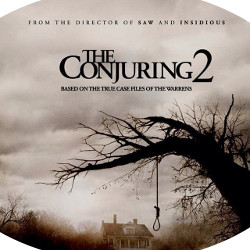 The sequel of horror movie, The Conjuring (2013) will be the masterpiece of James Wan. New Line Cinema has extended the contract with the director from Malaysia. James Wan is considered to succeed to bring the horror movie to blockbuster movie for the first time with the profit about US 320 million dollars in box office across the universe. As a matter of fact, the budget of the film The Conjuring (2013) is only about US 20 million dollars. The contract was coming to New Line Cinema when it decided to move the date of the premiere, The Conjuring 2: The Enfield Poltergeist from October 23, 2015 to 2016. Wan will have time to promote the Fast and Furious 7 before he starts to take the scenes of the horror sequel on the next summer.

Since Universal Studio has not decided the final decision yet whether Wan will involve in to the franchise of the film Fast and Furious in the future, Universal has formerly given James Wan the job as the director of the film The Conjuring 2.
Wan has also signed the long term contract with the studio party. Wan will develop and produce the movie with simple budget-genred science fiction, horror and comedy genre through Atomic Monster Production owned by Wan. The president of New Line Cinema, COO Toby Emmerich said that they have a great experience with James on The Conjuring (2013), and they gave much credit for the movie that worked very well.

Emmerich also stated that using James Wan again to be the director of The Conjuring 2 is such a right step. Emmerich said that Wan is the only outstanding director for horror-genre movie. it is based on how Wan offered the fantastic idea in The Conjuring (2013) and also the latest masterpiece, Annabelle (2014) whereas he was the director, succeeded as well. Based on those facts, Emmerich confessed that he worked so hard to realize that.

Wan himself confesses that there are an abundance of ideas on his head about The Conjuring when the editing time of the movie Fast & Furious 7. Wan also said that taking a rest from a horror movie has allowed him to be more creative. Wan said that he is definitely so glad to tell the case from Ed & Lorraine Warren and also extend the world they made.