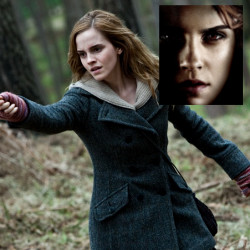 Hermione Granger, the sorcerer fellow of Harry Potter is the supporting female character in Harry Potter movies, the movie series adapted from J.K. Rowling novels. Hermione is played by Emma Watson, the now's rising star with a great talent.

The last sequel, the final one which means the end of the Harry Potter series, makes Emma Watson broke into cry when the filming ended for, yes, forever. Of course she was so sad because she has been Hermione since the first sequel of Harry Potter. It seems that this movie represents her life as she grows up during the filming of the movies.

Quoted by Contact Music from television show 'Day Break', Emma Watson said that she couldn't stop crying and she just let the tears to flood her face right after her last action. She said honestly that the moment was so emotional and sad that she couldn't control herself for stop crying. Her sadness is reasonable learning that she will be no longer be able to act as Hermione.