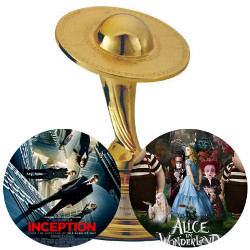 INCEPTION, an incredible science fiction movie took the dominance in Saturn Awards 2011 as it achieved 5 awards from 9 nominations. The movie which is directed by Christopher Nolan was the star during the event.  Some other movies also took lead in some categories.

The categories won include the Best Director and Best Writer for Christopher Nolan. The Best Music category came with Hans Zimmer as the winner. Meanwhile, other awards were won by Chris Carbould, Paul Franklin, Andrew Lockley, and Peter Begg for the Best Special Effects category.

Other movies like Alice in Wonderland, Tron Legacy, Black Swan, and Let Me In won two awards for each. The lead character in Black Swan, Natalie Portman, was honored with Best Actress award for her mind-blowing acting. Another actress who was lucky bringing one award home as Best Supporting Actress was Mila Kunis.