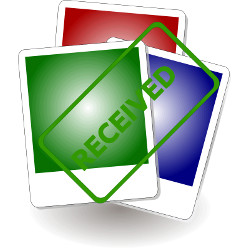 If you have read how to make logo watermark on your photo, it is almost the same as that. But, there are some different steps. Follow these steps.

Open the Artwork File
You just need to open your photo file or Artwork and start to create writing on the file. Click Type Tool and click and push the cursor that makes dotted lines in oval shape (the size is as your taste).  Position on everywhere you want. It doesn't matter. The writing can be moved as what you did in the third step of making logo watermark.

Create The Writing
While the box has been created, start to type writing you want to for the watermark. Feel free to choose the font and the size adjusting to the upper side of toolbar shown when typing Type Tool. And click it. The color of the watermark is used to be white. You can use Swatches Tab on the right side of the artwork to choose the color.