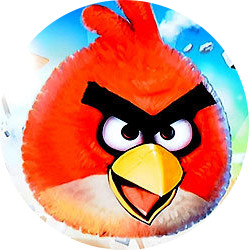 The voice actors of Angry Birds movie have been revealed. The actor in the movie We're The Millers (2013), Jason Sudeikis will be the voice actor for the main character, Red in this new animation movie. The character of Red has a problem with the emotion and tends to be temperamental. On the other hand, Josh Gad will be the voice actor of Speedy chuck and Danny McBride will be the voice actor of the Volatile Bomb.

Reported by Aceshowbiz, Bill Hader and Maya Rudolph will be dealing with the movies as the voice actor and actress to. Hader will be the voice of one character of the evil pig, and Rudolph will be the voice of Matilda. And the star of the movie series, Game of Thrones, Peter Dinklage will be the voice actor of the Mighty Eagle.

Some other actresses and actors who get involved into this Angry birds movie are Kate McKinnon, Romeo Santos, Tony Hale, Cristela Alonzo, Jillian Bell, Ike Barinholtz, Danielle Brooks, Hannibal Buress, Keegan-Michael Key, Ian Andrew Hecox, and Anthony Padilla.